The top article about the Timberland brand. Want to know more?— Read other articles about the brand.
Timberland footwear
We'd like to tell you aboutn a brand, hat has existed and has been successfully operating for a very long time, and has now regained incredible popularity among people who value quality and design.

Like most other popular brands, it is much more profitable to buy Timberland original footwear in the USA — it will be possible to save as much as 50% on each pair. And if you really get into the period of big seasonal discounts, you can buy the famous high yellow boots for almost a penny — just for $ 60-80! Such prices can never be found anywhere in other countries. Now, we will tell you about all the intricacies about where and how Timberland shoes are bought in the US, but a bit of history first.
Timeberland Story
For good reason it is said – «find your business and bring it to perfection, only then your skill will be appreciated»! It was this principle that underlies the life of Nathan Schwartz, who immigrated to the United States from Odessa at the very beginning of the 20th century. Schwartz was a hereditary shoemaker and devoted his whole life to sewing the most durable, wear-resistant and beautiful shoes that became known all over the world. As you can see, he succeeded!
The Timberland brand (or rather what came before it - technology, professional secrets and Schwartz's experience) originates in 1918, when Nathan got a job as an apprentice in a shoe industry. As the years passed, Schwartz gained experience and eventually opened his own factory, which in 1978 took the name Timberland from the 1973 model, which received incredible recognition around the world.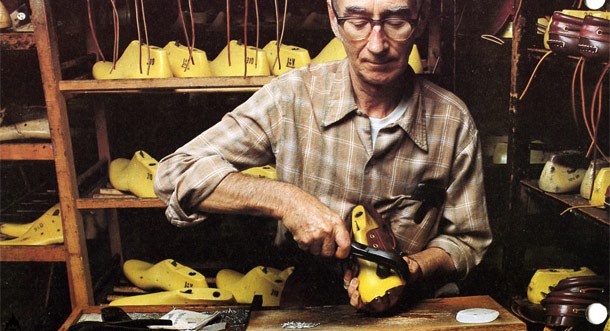 After that the company noticeably increased its turnover and began to gradually add more and more new names to its assortment, from casual shoes to clothes, accessories and even watches.
Main features
All the same, why Timberland (or, as some brand lovers say - timberlakes) are so remarkable and good? Without exaggeration, everything is remarkable! The boots of this brand are based on a unique technology that provides exceptional protection against moisture penetration, seamless attachment of the sole and upper part of the shoe. Simply put, your feet will only get wet if you pierce the boot with something sharp. Also buyers fell in love with the brand due to its interesting design — Timberland boots are bright, minimalistic and durable. Due to their qualities and excellent workmanship, they were even exhibited in the London Design Museum.
One of the main and most believable versions of the brand's development - Timberland boots were originally produced for lumberjacks who needed simple, bright, catchy and durable shoes so not to injure their feet while working. This version is also supported by the fact that the name Timberland itself can be broken down into two words:
Plus, the company's famous logo today is a sprawling American oak tree.

Timberland: how to distinguish an original from a fake
If you buy Timberland footwear in the USA, it is an excellent guarantee that the boots are not fake. Of course, Timberland's official US website guarantees 100% quality of the products sold. If you buy in other stores, you should pay attention to the following details:
The backdrop is always made of high quality leather. No dermantine, and even fabric, if we are talking about a classic model.

Laces are made only from Taslan. This material is very strong and abrasion resistant.
The eyelets are hexagonal and made of brass.
Leather stitching always consists of four rows.
There is always a logo on the outside

Timberland. Remember it

—

it looks like this one.

Timberland boots

are waterproof. If your feet get wet quickly in your boots, they are not original.

Leather pads are used inside the last for a more comfortable fit of the foot.
What and where to buy? Save on!
How to buy Timberlands in the USA? The official Timberland store previously did not strongly favor international bank cards, but PayPal payments, according to our customers, were successful. Recently, the store canceled this rule, and now you can safely pay your purchases with domestic credit cards without any problems. There is not so much information about it, that's why some people continue to look for Timberland footwear at third-party sellers sites. But they do it for nothing!
Pros of buying footwear on ]]>https://shop.timberland.com/]]> are a full range of products, a pleasant interface and convenience. However, what the store cannot boast of is a wide variety of discounts. Of course, you can find them, but they are far from being as interesting as those of large retailers. If Timberland.com doesn't ship orders to your country you may use Qwintry which helps you to deliver your purchases from the USA. доставка в Россию не предполагается, но это не беда, когда рядом есть Бандеролька, готовая с удовольствием достваить ваши покупки из США. Moreover, ordering Timberlands from the USA is almost easier than buying anywhere else, especially considering the absence of fakes.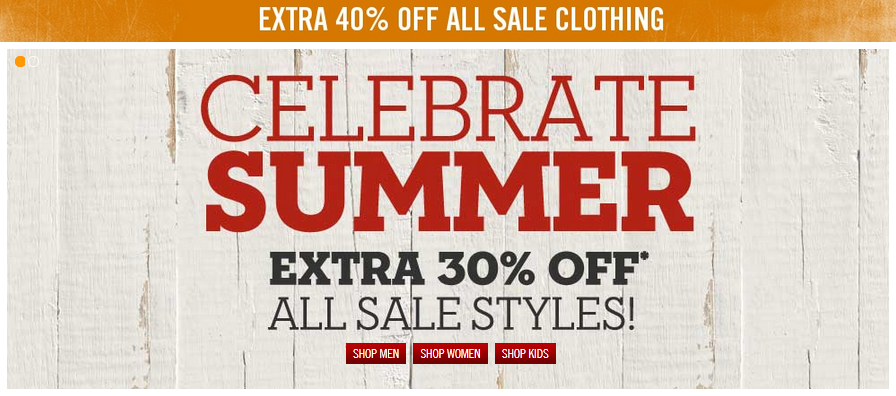 Have you read our article about New Balance? If so, you surely remember an interesting function: customize your shoes, that means to collect it according to your own template. You can do the same on the website. ]]>Timberland]]>!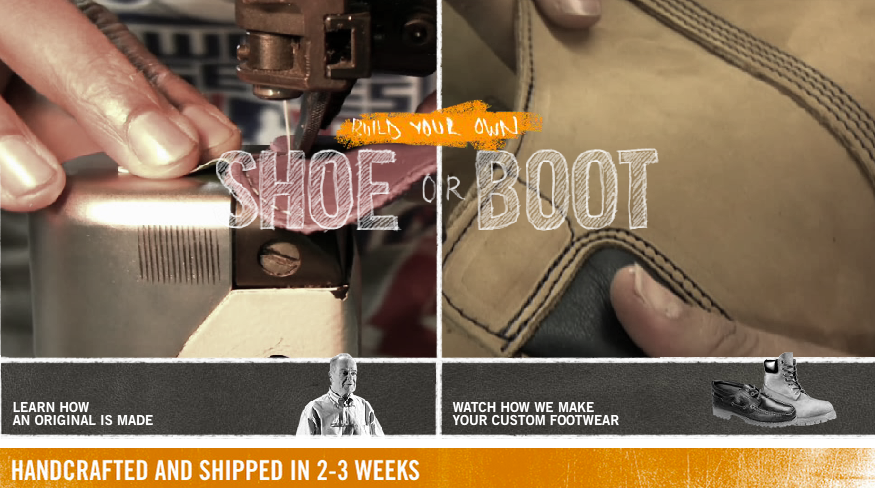 In addition, you can buy clothes and camping accessories here. In general, the range of the site really allows you to run wild!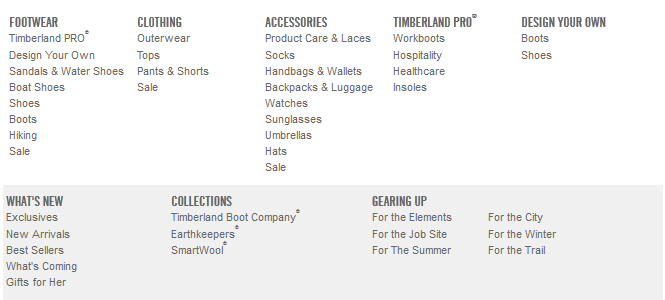 Timberalnd Boat Shoes
Timberland top-siders are loved on a par with models from the inventor of this type of shoe, Sperry. It is worth clarifying that top-siders are exclusively yacht shoes of a certain brand. And all similar or copied shoes we call top-siders in vain. It is correct to call them boat shoes.
We recommend choosing these Timberland shoes, the official website of which sometimes does not let users from other countries visit the site without an anonymizer, in several US stores: Amazon, 6pm and Zappos.
You can almost always find Timberland top-sider of your size at one of these stores at good discounts. Usually, the classic male model costs about $100, but Amazon, 6pm, and Zappos know how to attract you, that's why they often lower the price almost twice.

And we mentioned the correct name of the Timberland Boat Shoes for a reason. If you start looking for these shoes by the keyword Top-Sider, a smart search engine will, of course, show you some relevant results, but you won't be able to find all the variety of yacht shoes that way. It will only be worse trying to search for such shoes by typing "timberland moccasins" into the search line. You won't even be able to read reviews about them in this way, let alone find the right pair.
Timberland for winter
One of the most common beliefs is that the Timberland online store does not sell winter boots. This is not true. Even if the boots do not have the usual internal texture and wool insulation, it does not mean that you will be cold in these boots in winter.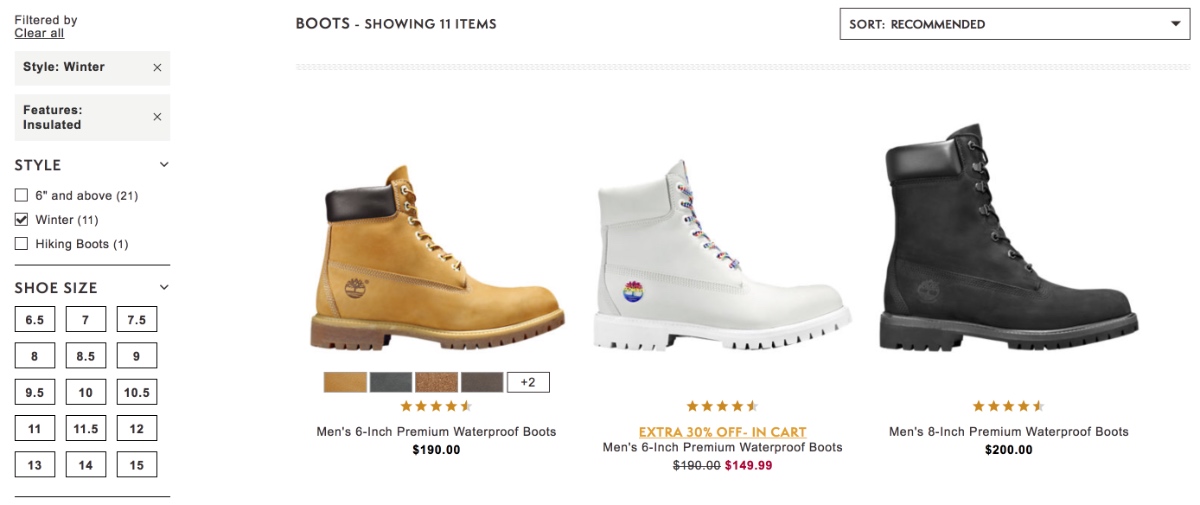 Firstly, these boots are waterproof, which means that one of the problems has already been solved — feet will not get wet and cold.
Secondly, Timberland boots are insulated with 400 grams of Primaloft synthetic wool, which has been used since the 1980s to warm the boots of the US Army.
Timberland boots for men in their classic form have long been known to everyone. However, the company does not forget about women, so if you do not want to perceive these boots as unisex, then Timberland women's boots can be bought in a more feminine version. As an example, pink, with additional decorations.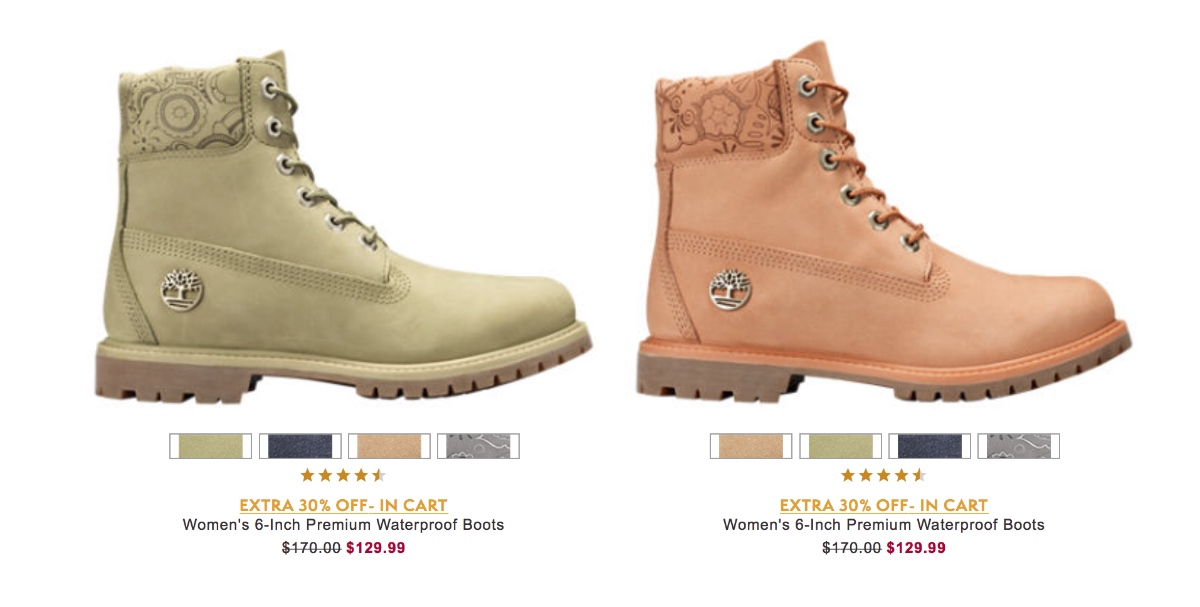 You can find much more interesting models for both men and women on the official Timberland website, on Amazon, 6pm or Zappos.
Popular Timberland models
Some models, which draw attention to themselves!
Classic Men's Timberland 6-Inch Premium Boot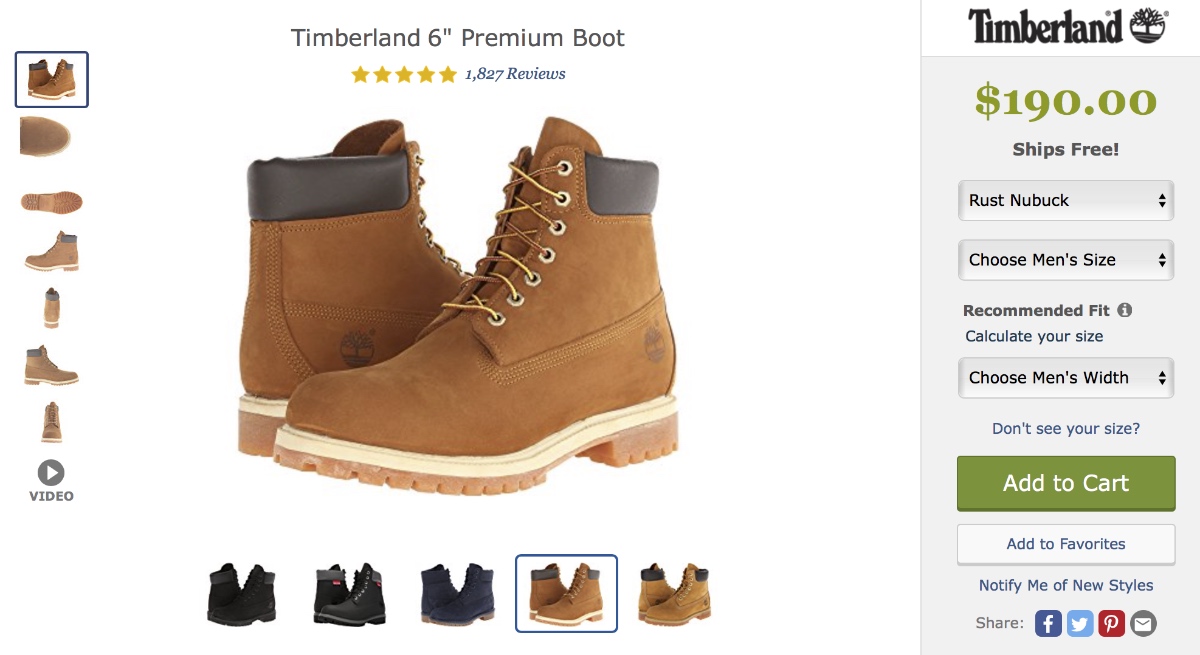 More comfy, casual Timberland Naples Trail Chukka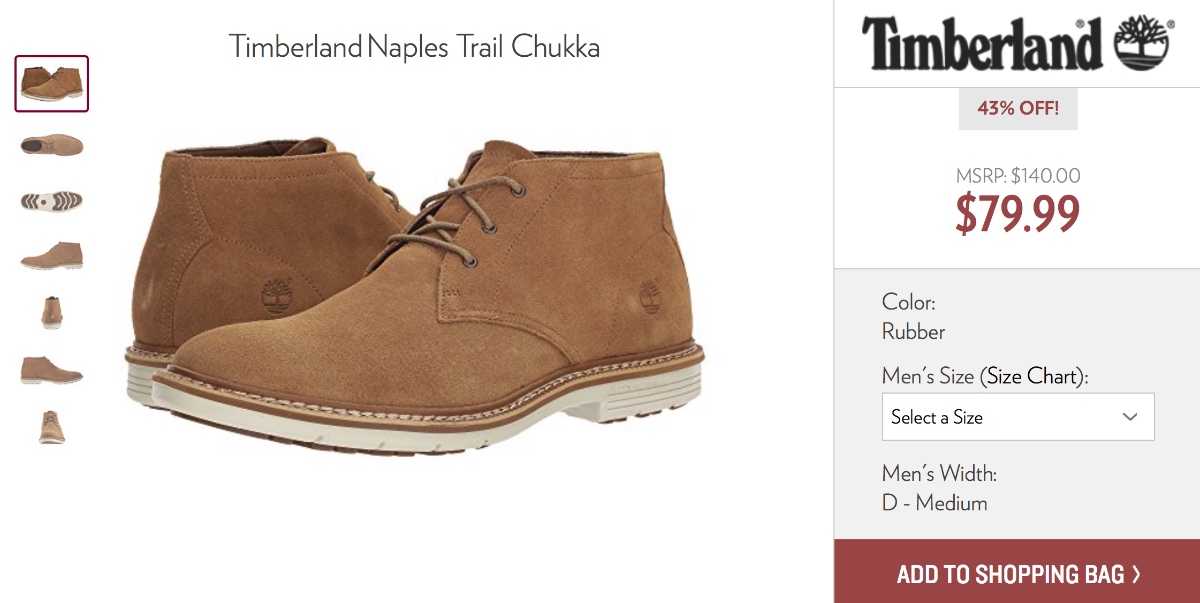 Bright women's Timberland 6" Premium winter boots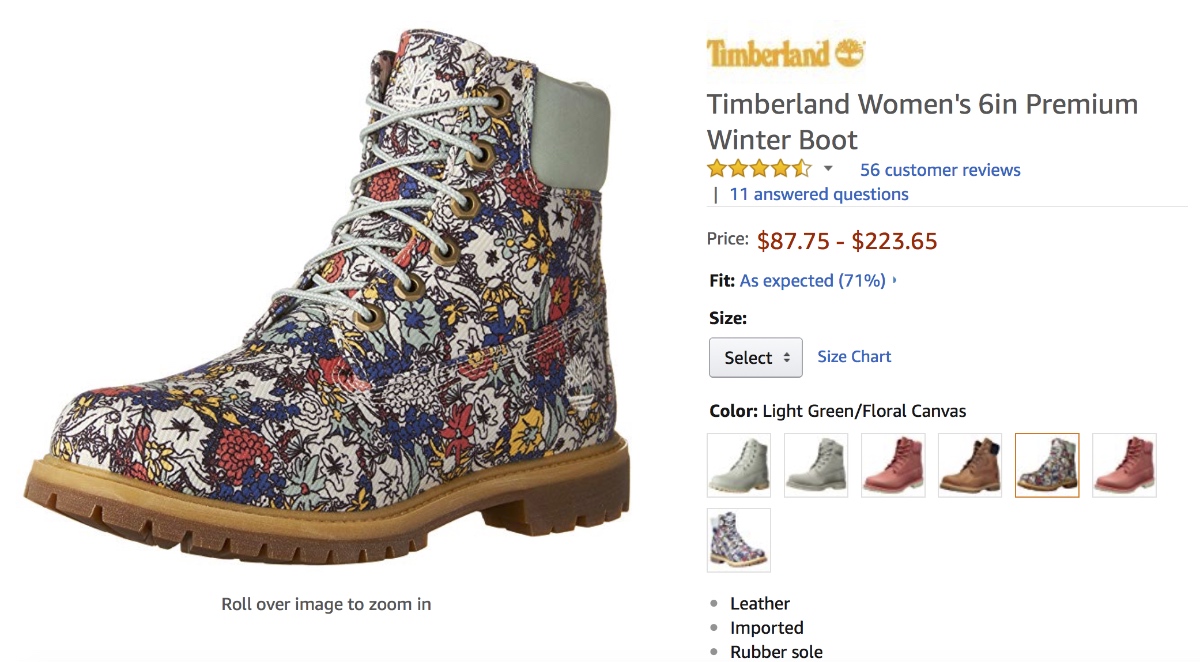 Not so bright, but not less attractive women's Timberland 6" Premium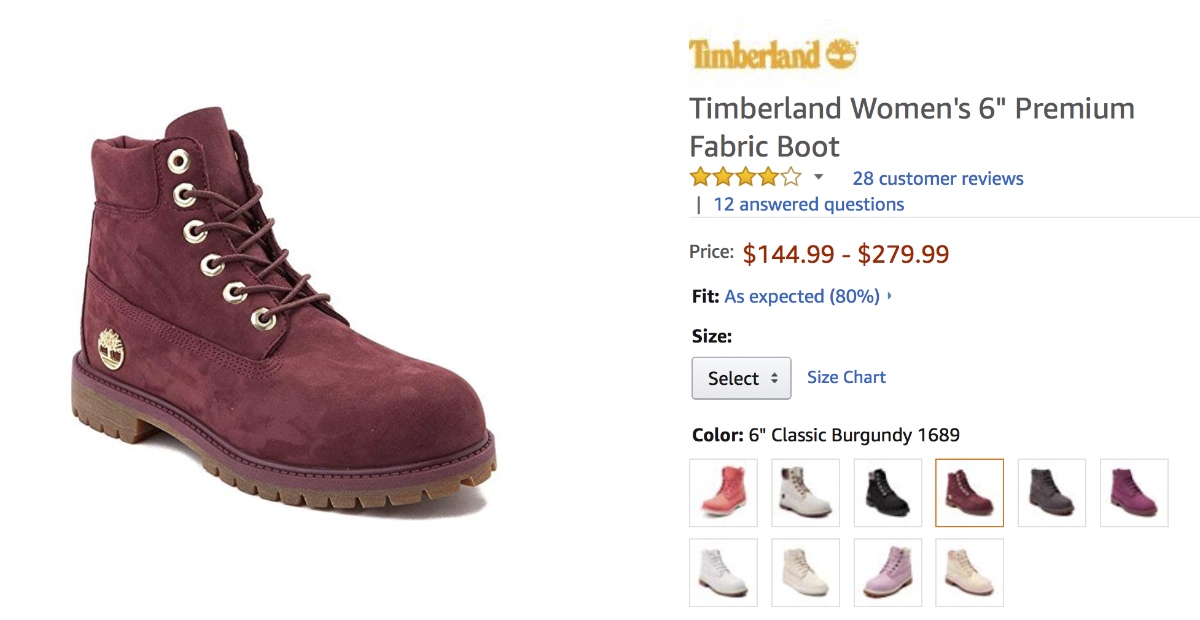 ]]>Buy on Timberland]]>: $145-280
Men's classic Timberland Earthkeepers Rugged Boot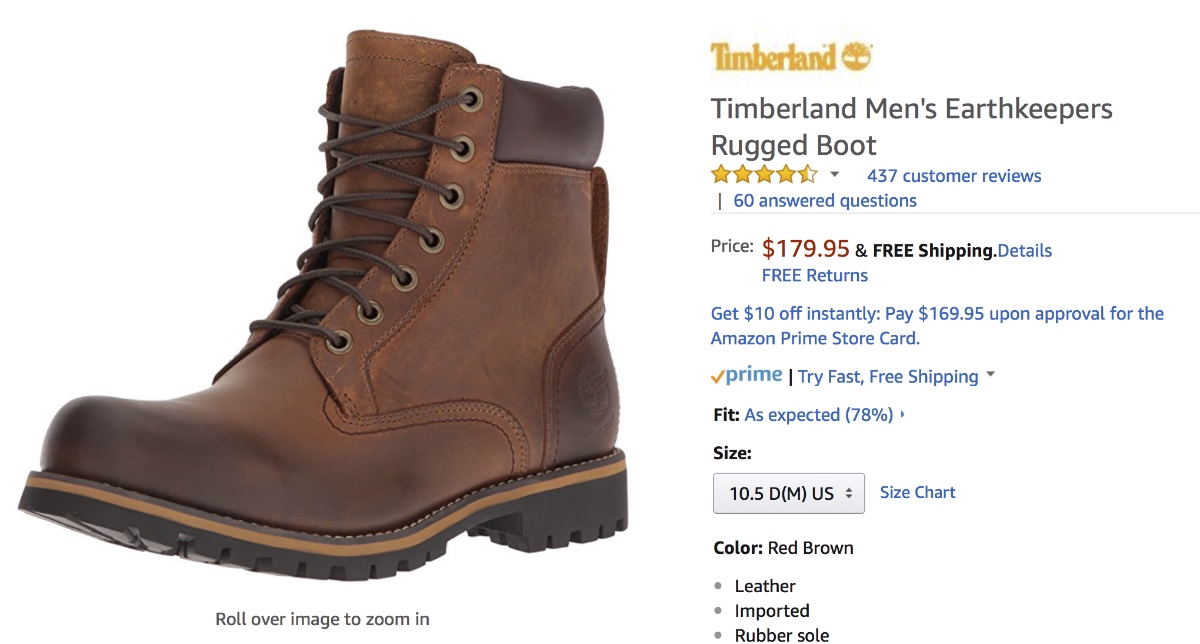 As you know, Timberland's assortment is practically unlimited, they sew many different types of shoes for every taste. And & nbsp; most importantly, all of it is made of leather — the company does not skimp on quality! You can find everything at different marketplaces: from summer shoes to heavy boots with metal toes. That is why it makes sense to study the Timberland assortment in more detail and find the right pair.
Where to buy Timberland
It is almost impossible to find Timberland boots outside the United States at afordable prices. Moreover, as we have already mentioned, Timberland shoes are now being counterfeited by Asian countries. Nevertheless, in order to buy Timberland boots at a nice price and not buy a fake one, you do not need to be an expert on American shopping - you just need to use trusted stores and read reviews of real customers before buying. You should agree, that it is quite easy to find a fake, and if it happens, a dissatisfied customer will always write about it in his review on the store's website.
What Timberland is loved for is a wide range of products. In the US, you can buy almost any model of these shoes, ranging from summer top-siders and ending with warm Timberland boots.
It is very easy to do. First of all, we recommend that you go to the USA official Timberland store, find a suitable pair of shoes there, and then check prices in all known multi-brand stores. Be sure, Timberland sells shoes at fairly low prices, but famous online retailers like Amazon and its subsidiaries offer even cheaper shoes! And you shouldn't worry about originality either — fake items in the United States is almost imposible to sell.
Another important point that should not be forgotten is usingstandard size chart while choosing shoes, and also read customers' reviews — some Timberland models of you usual size can be in fact smaller or larger. If there are no comments and you are not sure about the size of a particular pair of shoes, contact the store support and ask them for help. Another little trick is to check the data on the size chart, where there is a Japanese size ruler, which simply indicates the length of the insole in cm.
P.S.
Although sometimes accessing a website from another country can be problematic (usually it is impossible to get to the home page only, but to any other one — you are welcome), as a rule, there are no problems with delivery to forwarding companies addresses, but if suddenly you have any difficulties you can always place a request and use our service "Shopping Help". Therefore, Timberland's online store makes a catalog of its products not only for US residents. And it is worth using, because original Timberlands, in addition to their attractiveness, are also really hardy. If you treat your shoes with care, they will last until they just get bored.
Discounts + Coupons + Sales