Autumn is just around the corner, which means it's time to update your everyday office wardrobe. New shoes will be a key item on the shopping list. A comfortable and stylish pair of shoes that match with different clothes will delight you every day. We have prepared a useful guide to outlets so that you can quickly find a pair of shoes that suits your look.
How much do fashionable shoes cost in 2021?
When looking for stylish shoes in your country, you have to make a difficult choice. The first option is to buy inexpensive shoes of "near-Chinese" origin. But in this case, both workmanship and ergonomics remain in question. Most likely, such a pair of shoes will be used for one season, after which it will be got rid of without regret.
The second option is buying expensive branded shoes, which guarantees an investment in your image. High-quality shoes are pleasant to walk and enhance the feeling of confidence. And, of course, such models, with proper care, remain in perfect condition for many years. But finding cheap branded footwear in many countries is practically impossible. Even the GUESS brand, which in the USA offers stylish clothes at a democratic price, in other countries has set high prices for leather pumps which are one or two times higher than in the home market.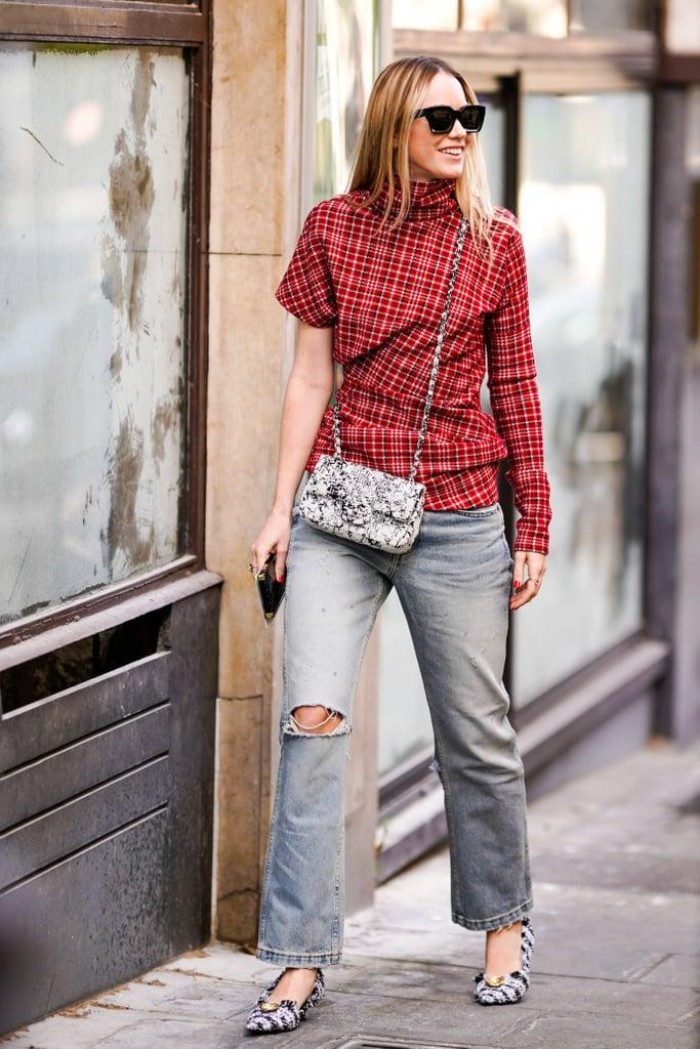 However, using Qwintry delivery, you can easily buy stylish shoes in the USA at low prices. For this you just need to sign up on the site: you will receive free personal addresses in America and Germany, which opens the "doors" of any online stores for you.
In the US, of course, there are suggested retail prices. And although they are lower than in many countries, we propose to look for the desired model on sales immediately. In America, the holiday of discounts does not end. On any day of the week, all year round, you can visit the websites of popular multi-brand stores and find stylish shoes at very low prices. Yes, available products run out quickly at sales, but new products regularly appear at American sales, so the assortment is always wide enough.
If you do not know the correct US shoe size, use our detailed instructions or search the Internet for a size chart of a specific brand. If you have the opportunity to go to your native country store to try on shoes, that will be absolutely perfect.
Calvin Klein Greta Leather Pumps
Buy at the 6pm Outlet: $51.35


Classic pumps are stylish timeless shoes. And if these are CK leather pumps, then they have a chance to become a favorite in your wardrobe. If you choose this particular model of a nude color, they will be combined with clothes of any style and color. Blue jeans with scuffs or a bright dress - both looks (and everything in between) will look perfect with these pumps.
We will not say that the classic Calvin Klein shoes are virtually unavailable for purchase in some countries - you yourself know that. We will only mention the price in the American outlet - $51.35. Of course, not all sizes are available for sale, but that's what an outlet is for. Seek and you will find.
Ted Baker London Snakeskin-Embossed Leather Pumps
Buy at Saks OFF 5TH outlet: $70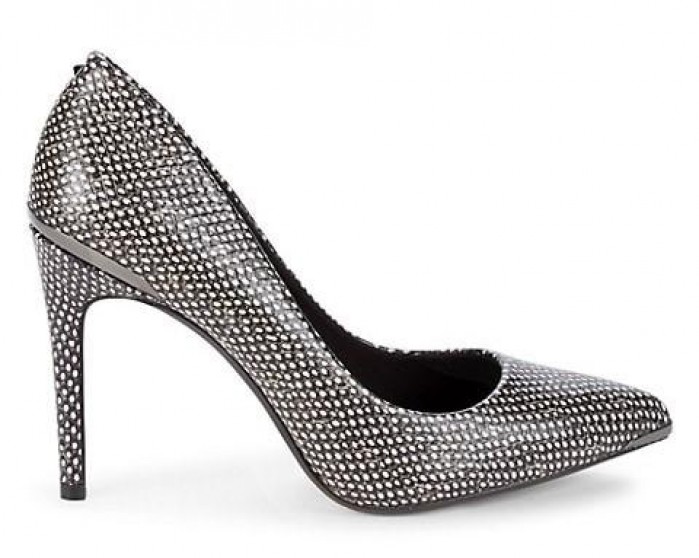 Most European or Asian women have shoe sizes 35 or 36. However, retailers, guided by some antediluvian manual, offer most of the models in sizes from 37. If you are tired of such discrimination, start shopping in American online stores. Sizes 35.5 (as in this sample) are often found even on sales.
For example, in the Saks OFF 5TH outlet boutique we found stylish Ted Baker London Snakeskin-Embossed Leather pumps with a 64% discount. The price is $70. It may be some times cheaper than your country's retail. And, of course, such unique shoes guarantee the attention of all colleagues and friends to you.
Lauren Ralph Leather Lauren Averi Loafers
Buy on sale at Macy's: $55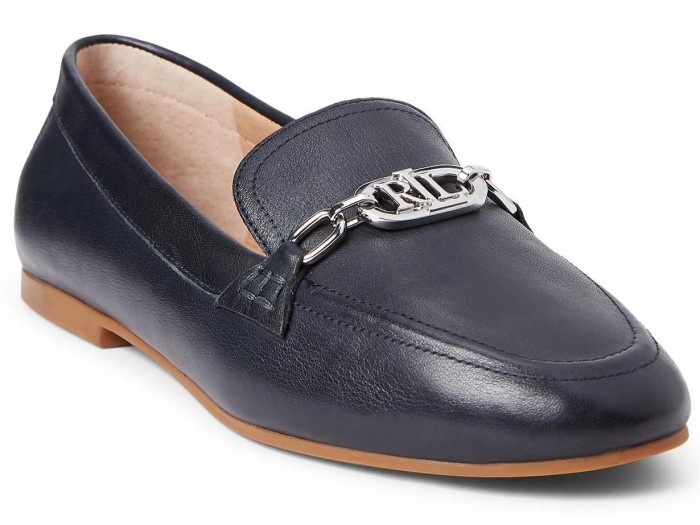 Stylish shoes should be comfortable enough to be able to move around the office all day long. And loafers by this parameter are out of competition. Leather shoes with elastic soles with a small heel will make you feel comfortable, which is especially important during an intense work schedule. And since the chic model of Lauren Ralph Lauren is adorned with the company's logo, no one will ever guess that you bought it for a miserly sum.
Macy's online store does not have a separate branded outlet. All discounted clothing and footwear models are available both from the general catalog and via Offers filters. We advise you to visit the site of this hypermarket when shopping, as all popular American brands are available at Macy's, and discounts on many products are 50% or more. For purchases from your country, you may need a VPN.
DKNY Parks Rhinestone Wedge Sneakers
Buy at Nordstrom Rack: $50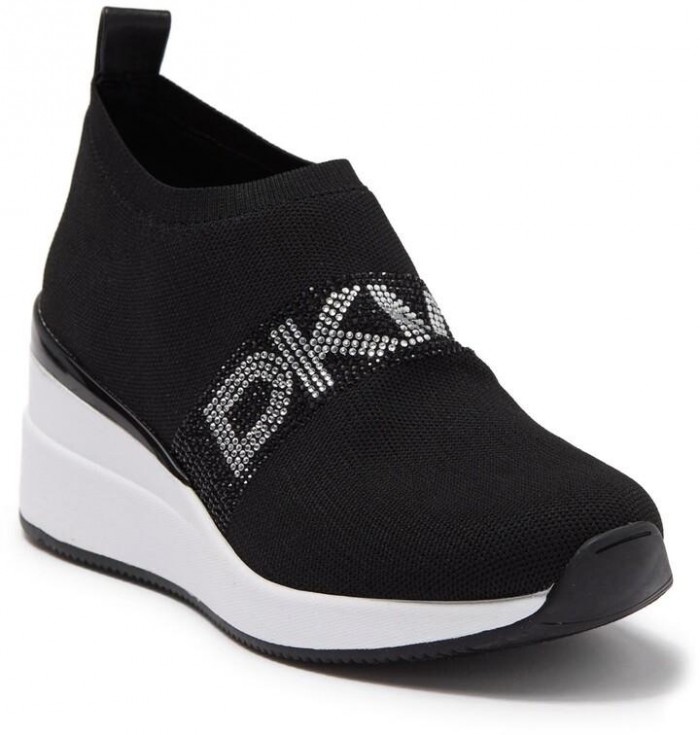 In 2021, stylish shoes can feel and look sporty. But if you think that NB and other lifestyle sneakers have become overly popular, you will find many unique models in American outlets. For example, DKNY sneakers provide maximum comfort. The slip-on construction with a high elastic sole is the perfect choice for the working day at the office and for long city walks as well. Due to the bright logo on the toe, we can say that the starting price ($ 120) is engraved on the sneakers. But no one will know if you do not say that they were sold in the outlet for $50.
We must admit that in this case we are dealing with the last copy of the last available size. That's why there is a 58% discount. But this is not uncommon for Nordstrom Rack.
If you cannot find stylish shoes in your country at a low price, start online shopping. With Qwintry, shopping in the USA and Germany is as convenient as possible. Sign up on our website and collect your stylish autumn look.
Discounts + Coupons + Sales