Demi-season boots, rubber boots, trendy sneakers - this and much more must be bought in American stores. You can get started anytime, because sales and discounts in the US run all year round. In this article, we will tell you about 4 of the most popular stores which suggest a huge shoe assortment.
How to buy kids shoes in the USA?
If you are not yet familiar with shopping in America, in this section you will find answers to all basic questions.
First and foremost question is what way can you deliver purchases from the USA to your country? It's very simple: join Qwintry and get a free personal address in Delaware. You do not need to pay a subscription fee for an account or make a required number of submissions. Buy baby shoes and other goods in the USA with a comfortable frequency. Once a year or every week — it's up to you.
The second question is how to find out the size of children's shoes according to the American scale? Use our summary size chart for guidance but before buying, we recommend that you search the Internet for a size chart of a particular brand. The sizes indicated on the sneakers of American brands (Nike, Skechers, Reebok) will also help you to navigate.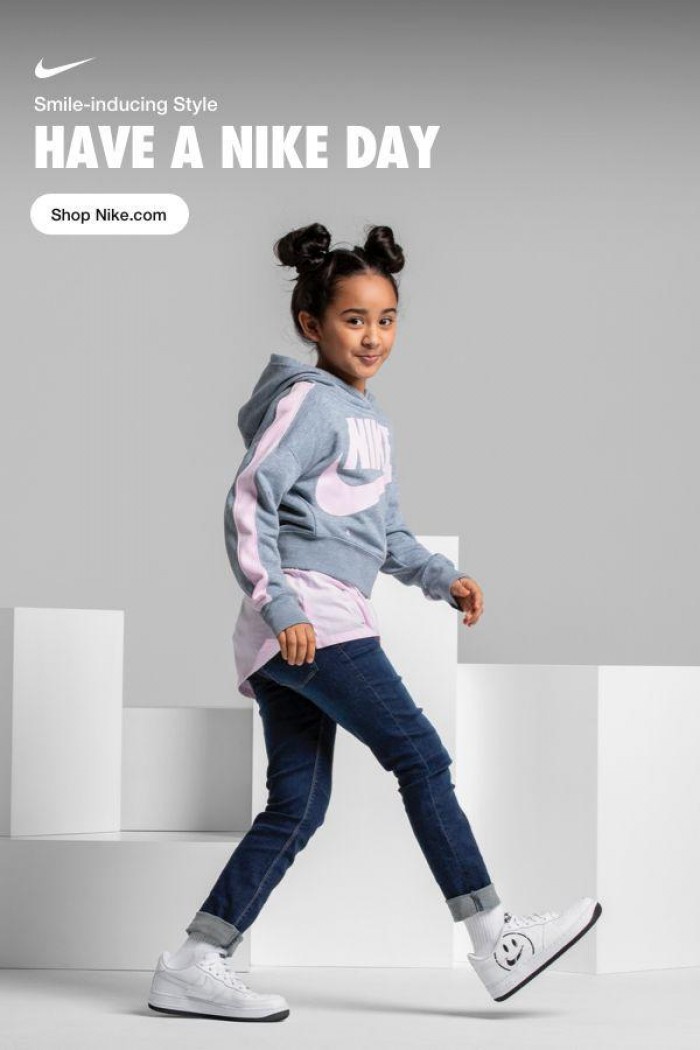 The third question is how to navigate the settings of unfamiliar American stores? Contact our service Shopping Help - Qwintry specialists will make orders using the links indicated by you. You can pay for purchases at the Qwintry site, without signing up at online stores.
And the final question is where to buy cheap children's shoes? Let's take a closer look at the best stores. For visiting the first two you do not need additional browser settings, and for visiting the last two you should enable VPN in your web browser.
Outlet 6pm
Outlet 6pm is a sales site for the Zappos hypermarket, which is currently owned by Amazon. Therefore, you should not be confused by the unrealistically low prices for all brands - with a discount of up to 85%. The fact is that many models remained from previous collections in limited quantities. At the same time, the quality (and brands) remain unchanged.
Buying baby shoes at 6pm is the choice of many parents. Clothes and backpacks are also available in the online store, but the main direction was and remains footwear.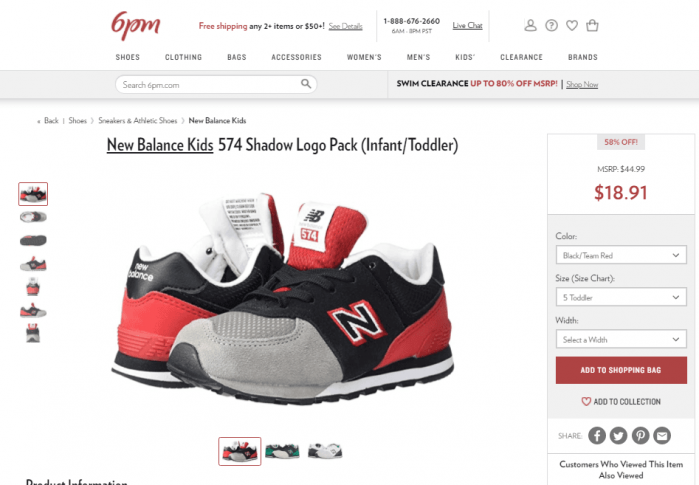 For example, children's sneakers New Balance 574. In the American outlet they cost about 3 times cheaper than in many countries.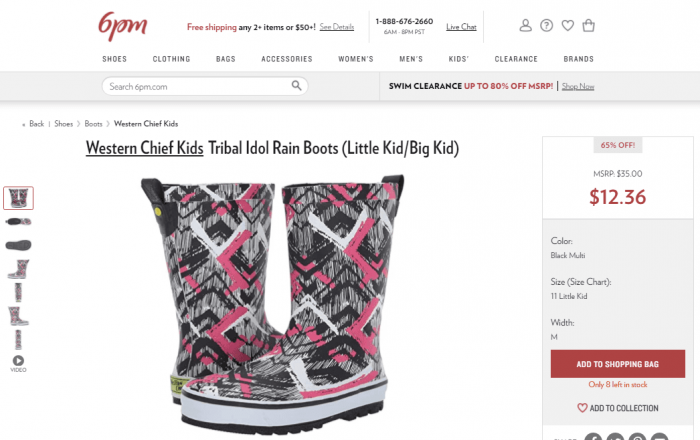 For rainy autumn weather, American stores offer a large number of rubber boots for children. At the time of this writing, this model for girls was sold in the last size for $12.36.
The popular American store Shoe Carnival specializes in the sale of any footwear: from flip-flops to ballroom shoes. In the Kids Sale section, models are available with a discount of up to 50%. Looking through the catalog of children's sneakers, we found a cute model for playing basketball, the price is $19.98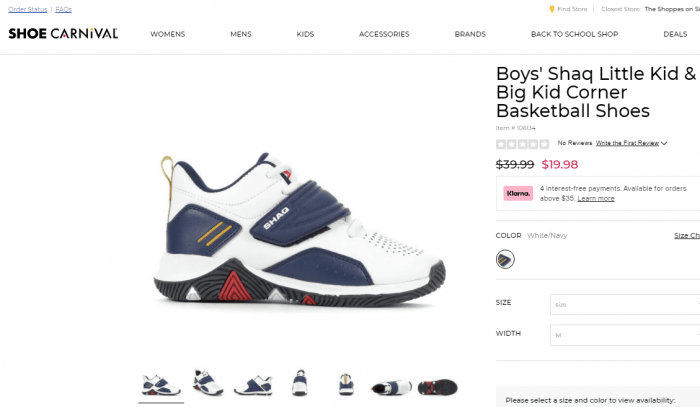 And in the kids boots section we liked the stylish faux suede ankle boots for $24.98.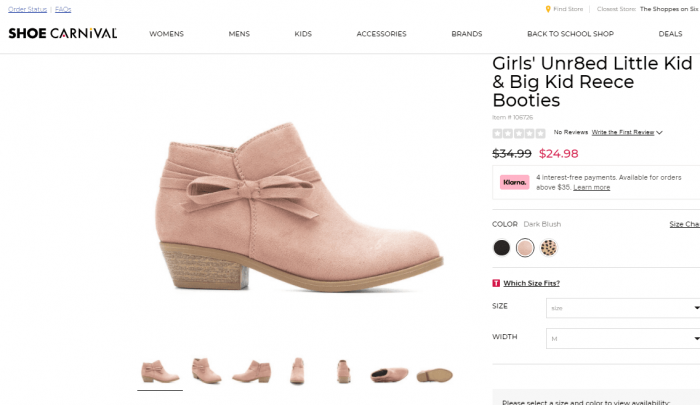 We also recommend visiting this store to buy winter boots for boys and girls. You might buy the model at the regular retail price, but it's worth it. New England and Midwestern Americans value warm, reliable shoes because temperatures in the northern states in January easily drop to -20°C.
You can enter the online store using VPN. And we highly recommend it if you are looking for stylish shoes for girls and boys. There is an Offers item in the side menu of the online store catalog. Check all sub-items (Sale, etc.) with check-boxes and you will receive a list of discounted products.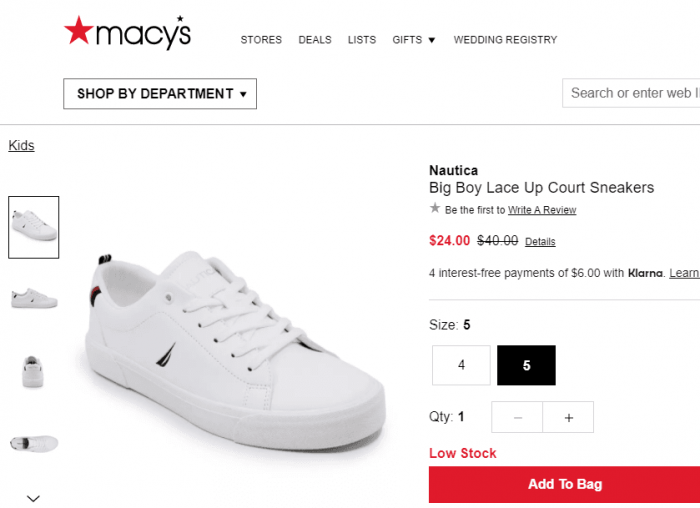 Available in August 2021, discounted shoes can fill your wardrobe for any occasion. For example, white Nautica sneakers are sold for $24. Sure, this is a weekend wardrobe, but this is a stylish pair in which your son will look like the star of the evening.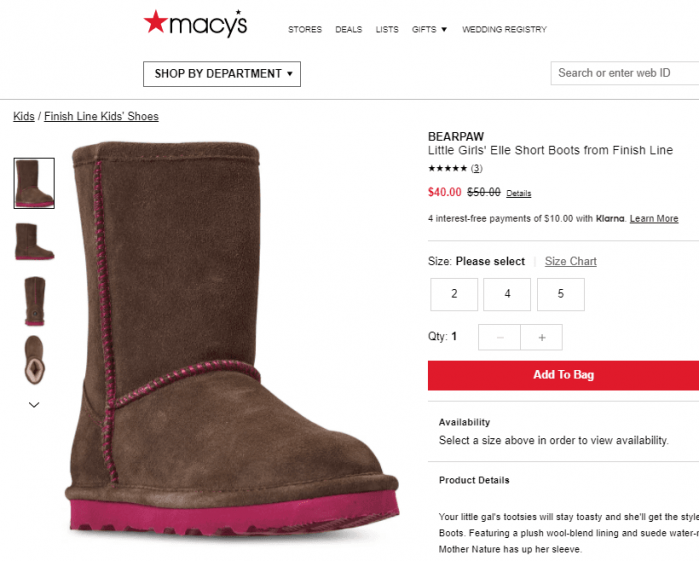 It is difficult to buy winter boots from last season at Macy's on the eve of autumn, but not impossible. For $40. We found winter ugg boots for the girl. BEARPAW Elle Short Boots are made of natural suede and what is the best for the snowy climate - they are waterproof.
Children's shoes in KOHL'S are presented in a huge number. This is a store with affordable prices, so the initial prices are competitive, and the offers with discounts become even more attractive.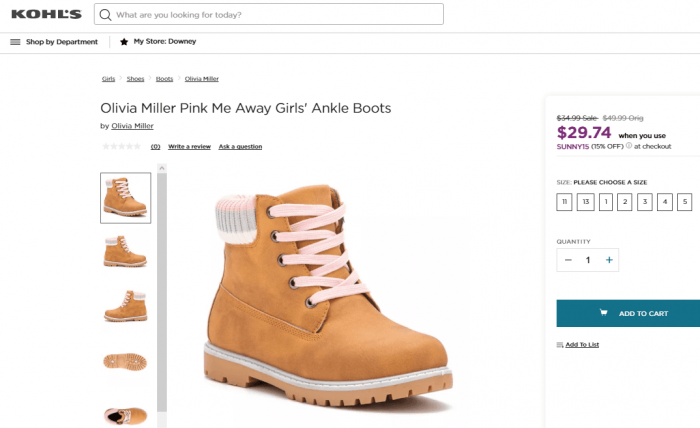 We liked the girls' demi-season boots for $29.74. The model is made of artificial nubuck, but in appearance it resembles the classic Timberland as much as possible, and the quality of Olivia Miller Pink Me Away boots is much superior to similar models from budget stores of your country.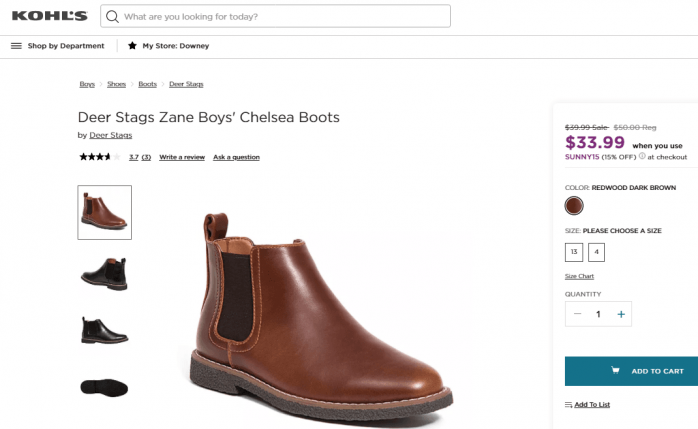 You can buy stylish boys' Chelsea boots just for $33.99. The model, released by the famous brand Deer Stags, will be a great addition to school uniforms.
A significant advantage of American sales is the constant availability of discounted goods, incl. children's shoes. Finding the right item at a low price is easy in outlets, and in addition, mass sales are regularly held in the United States. Join Qwintry and ship wardrobe items to your country in a reliable way.
Discounts + Coupons + Sales