American families choose high-quality clothes for their children, which often cost much lower than in any other country. We have compiled a list of the most popular stores in the United States with many bargain-priced items. Save links to have constant quick access to the directories you need.
Best shopping in the USA with Qwintry
Since 2010, Qwintry has been delivering goods from American and European stores to lots of countries. Over the years, the geography of delivery has expanded and logistics methods have improved.
It is very easy to buy quality but cheap baby clothes in the USA. Join Qwintry to get a free personal address in Delaware. You can order goods in any American stores and ship your purchases to this US address. Moreover, on sales in America, it is actually smart to buy not only tablets for school, but also stationery.
You can simplify the online ordering process by contacting our Shopping Help service. You provide links to the goods of interest, and pay for purchases via the Qwintry website, and our specialists place your orders in stores.
For the same purpose, you can use the Qwintry extension for the Chrome and Opera web browsers. When visiting the most popular stores, the button "Add to the Qwintry basket" will appear in the product cards. Add products from different online stores to this cart and pay for your order on our website once.
Best Budget Baby Clothing Stores
In the US, there is a huge selection of goods in all price categories. To make finding the things you need easier for you, we have divided the list of kids clothing stores into two categories. The first is goods from American mega retailers and budget mono-brand stores. In the Sales sections in such sites, there is always clothes and shoes at lower prices compared with other countries.
Most of the websites listed are available without problems in any country, but some of them will require a VPN to be used. If the link does not open, turn on the VPN with an American IP and continue shopping.
Carter's: a stylish choice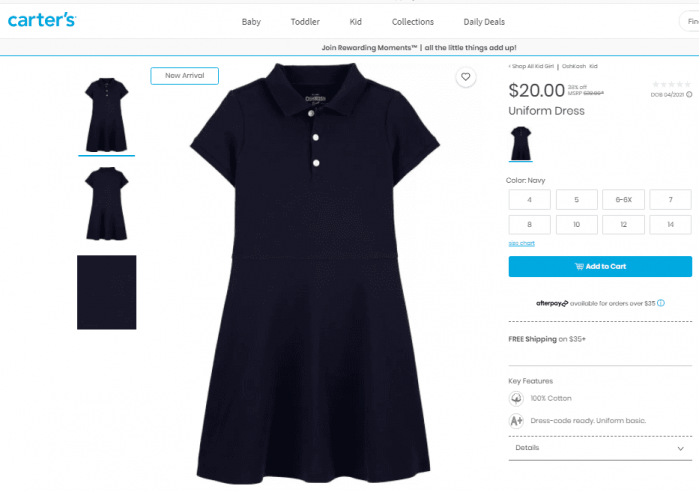 Megapopular brand of clothing and footwear for children. We recommend starting your purchases from the Sale section: discounts up to 50% for products from all sections of the catalog will be available to you. Since the site offers exclusively children's clothing, the catalog is conveniently structured by age category:
Baby - children under 2 years old;

Toddler - children from 3 to 5 years old;

Kid - children from 4 to 14 years old.
Since growth is a subjective parameter, there is an overlap of categories.
As an example of a quality product is a dress (girls' uniform) made of 100% cotton. Such a stylish and relatively inexpensive wardrobe item made from natural fabric cannot be found in domestic stores.
Old Navy: comfortable casual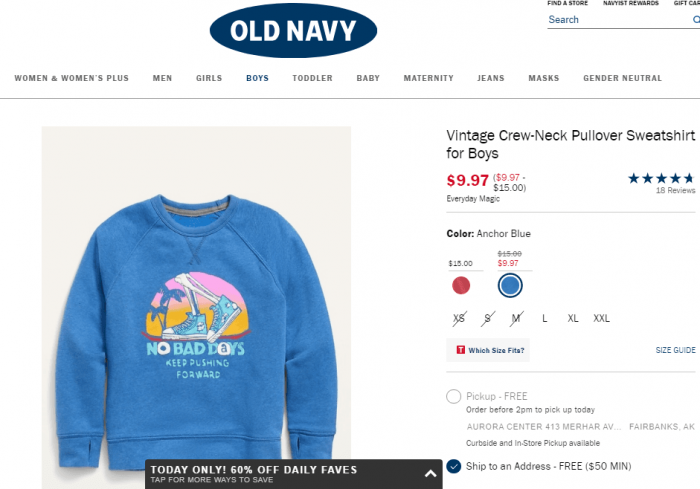 Old Navy is part of the GAP concern. The brand offers even cheaper garments compared to budget GAP products. In the American site, sales are constantly held with discounts ranging from 40% to 75%. A great advantage of the site is the division of the catalog into children's age categories:
The brand offers casual, informal clothing, so check Old Navy for prices on jeans and sweatshirts. For $12 you can find jeans of different styles in different colors. A cotton sweatshirt in the latest sizes sometimes costs less than $10.
Target: ultra budget solution

Target is a chain of hypermarkets. The retailer offers everything from toothpicks to smart home appliances.
Target offers a wide range of clothing for school children and toddlers at very low prices. The retailer offers both exclusive products (they are usually the cheapest ones) and products from other brands. Of particular note is the Kids' Adaptive Clothing line, designed for children with physical disabilities. Such clothing models are adapted for comfortable putting on. Depending on the category, the garment may have a wider neckline, additional fasteners on the bottom of the legs, or non-removable zippers.
Focusing on colossal turnover, Target is constantly wagging price wars with competitors such as Walmart and Amazon. Therefore, for the cheapest clothing for children, it is advisable to visit this website.
For example, taking into account the promotional discount of 30%, jeans for children in August 2021 were sold for $5.6. That is, quality denim is affordable for the price of a cup of coffee.
KOHL'S: grand sales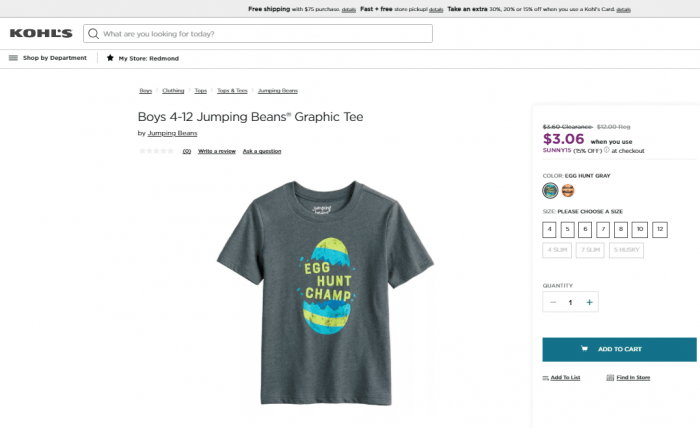 Hypermarket KOHL'S sells products from popular brands such as Nike. The product range is truly endless, with many items falling into one of two sales sections: Sale and Clearance. We suggest checking the availability of goods of interest in the second. Clearance Girls Kids and Clearance Boys Kids are sections with 1000+ pieces of clothing at cheap prices. Taking into account all the discounts, T-shirts for a boy are sold even for $3.06.
American premium stores
The word "premium" when applied to American retail does not necessarily mean "expensive." Yes, the prices for Calvin Klein and Levi's baby clothes are higher than in the examples from the previous section. However, taking into account the discounts, the cost for individual products can be quite low. Let's take a look at real-life examples.
Macy's: familiar premium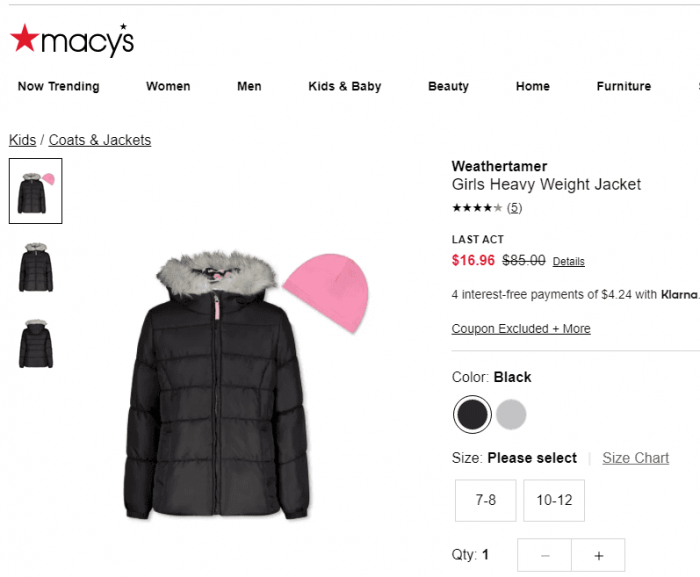 Macy's popular multi-brand store sells everything for wardrobe and home, right up to 5-carat diamond engagement rings. However, the Sale section has available clothing for girls and boys. Taking into account the 85% discount, the Weathertamer winter jacket for girls will cost only $17. Yes, not all sizes are available, but looking in the catalog for the one you need is worth it.
And, of course, Macy's is the first place to visit if you want to buy Polo Ralph Lauren and Tommy Hilfiger kids' wardrobe at low prices.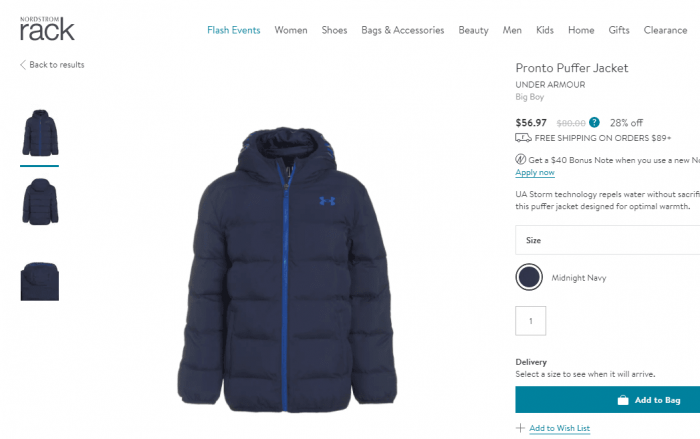 Nordstrom Rack Outlet is owned by Nordstrom megabutics. This online store sells 50% off Gucci watches set with small diamonds. However, there are a lot of common everyday clothing items in the online store. Considering the assortment, at any time of the year you can find clothes and shoes for the right season. At the time of this writing, the Under Armor down jacket for boys was on sale at a 28% discount for $57. In some countries this brand is represented mainly by models of clothing for adults. So the purchase is both profitable and unique.
You can easily buy these and many other goods for children in the USA with Qwintry: sign up and simply arrange the delivery of new items to your country.
Discounts + Coupons + Sales