A cold autumn is approaching, which means it's time to find the perfect office outfits for every day. We examined the catalogs of 10 American brands and selected interesting dresses for both everyday life and holidays.
We agree that it is comfortable to wear jeans and jersey tops. We recognize that skirts can be paired with any tops for a variety of looks. Most women think so. But we think, If you want to create a unique image of a businesswoman, you need stylish work dresses. Wearing dresses at work, you will very quickly realize that you like the visual difference between you and the people around you.
The more expressive a piece of clothing, the more obvious the coincidence if someone in the office is wearing the same clothes as you. You can avoid overlap in looks if you buy dresses in the USA. When you shop online in America, you get access to a limitless assortment of original outfits that will never be in your country.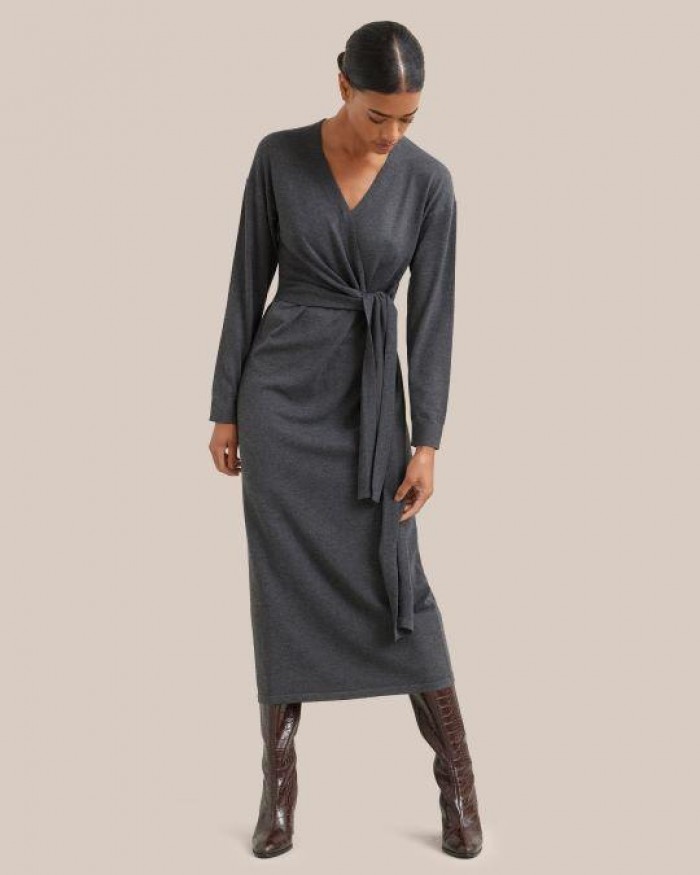 It is noteworthy that many work dresses are indecently cheap in the United States. We have selected 10 models for our list. One part just appeared in the new 2021 collection, the other part was on sale from the collections of previous seasons. Thus, the article features outfits priced between $30 and $120.
We chose brands that are relatively unknown in some countries, precisely because not everyone knows about them. We've already covered Calvin Klein and Tommy Hilfiger outfits in other articles. And to complete your perfect office look, check out our selection of stylish casual shoes.
The fashion look, you matched in the USA online stores, order to your Qwintry address. If you don't have an account yet, sign up right now and buy suitable items at great prices.
Forever 21 Ruched Mini Shirt Dress
Buy: $32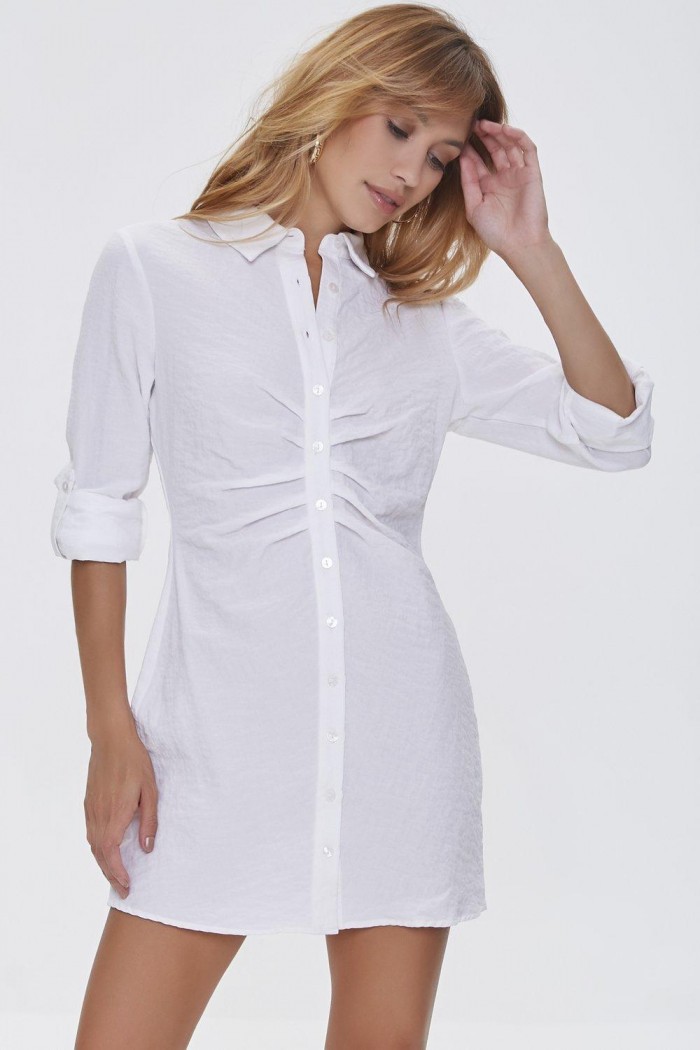 A stylish shirt dress doesn't have to look like a long version of a men's wardrobe shirt. Forever 21 designers know how to complete a women's wardrobe with unique details, neatly and tastefully. Turn-up sleeves and atypical ruffles in the front give this look an element of playful spontaneity.
Two Piece Dress by New York & Company Colorblock Flare
Buy: $48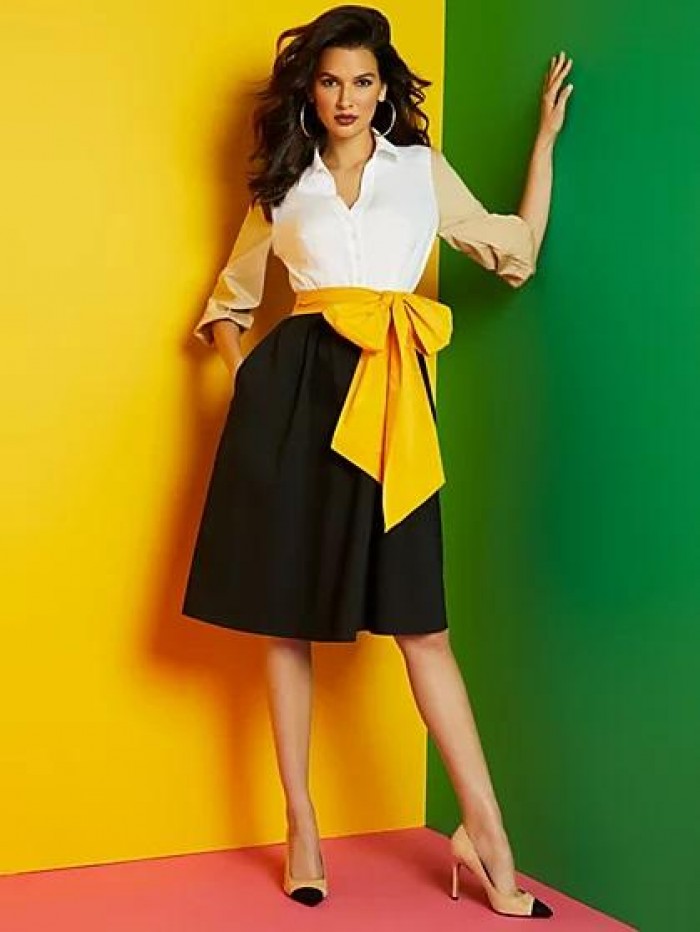 Do you want to look the brightest at the corporate party? Then pay attention to the two-piece dress with a chic yellow bow. The belt is a separate part of the bow, so you can tie the bow on either the side or the back. And if you come in this outfit on a regular weekday, the whole office will only admire your look.
Two Piece Dress Suzy Shier Short Dolman Sleeve Chiffon Floral Midi
Buy: $48.30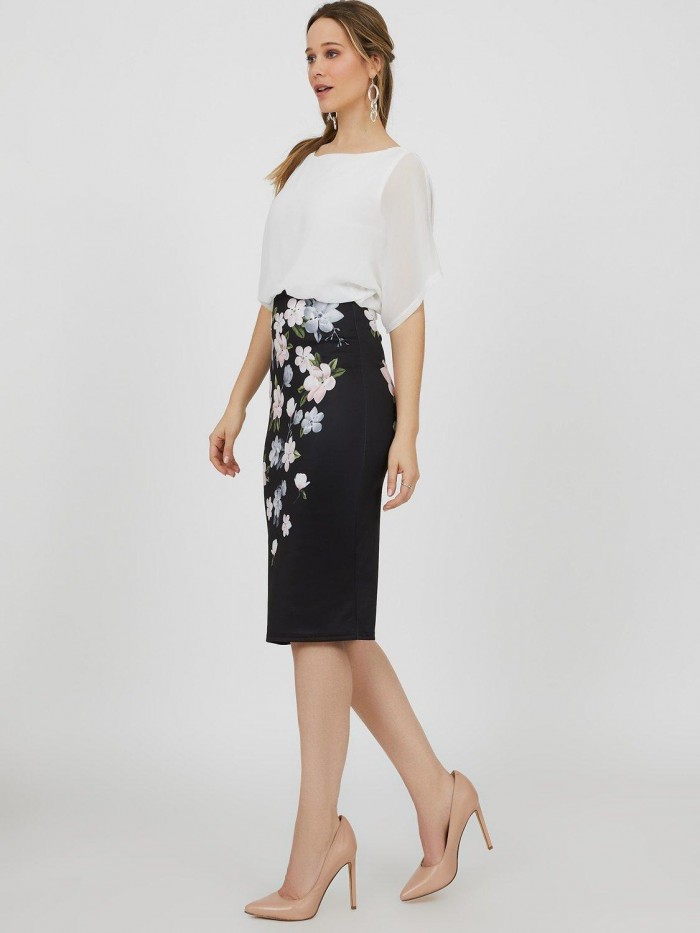 Another unique two-piece dress, but this time with a chic floral print on the skirt. This image is both business and smart. You can wear a dress to the office on Friday so that you can go to a friendly meeting after work. This bow is also perfect for going to the theater on Saturday.
Donna Morgan Cuff Sleeve Knitted Crepe Sheath
Buy: $32


Like classic looks, but would like to find an work dress in an original color? You definitely need shopping in American stores. You can buy an outfit in any color. And although at first glance this Donna Morgan model seems classic, the designers, added wide sleeves, an inconspicuous belt and a deep V-neckline, made the image very elegant.
Old Navy Sleeveless Ponte-Knit Dress
Buy: $32


A simple black dress should be added to your wardrobe. Depending on the footwear and accessories chosen, the Old Navy Sleeveless Ponte-Knit can be "tailored" for formal business meetings or informal coworking.
Express Color Block Asymmetrical Midi Knit Dress
Buy: $88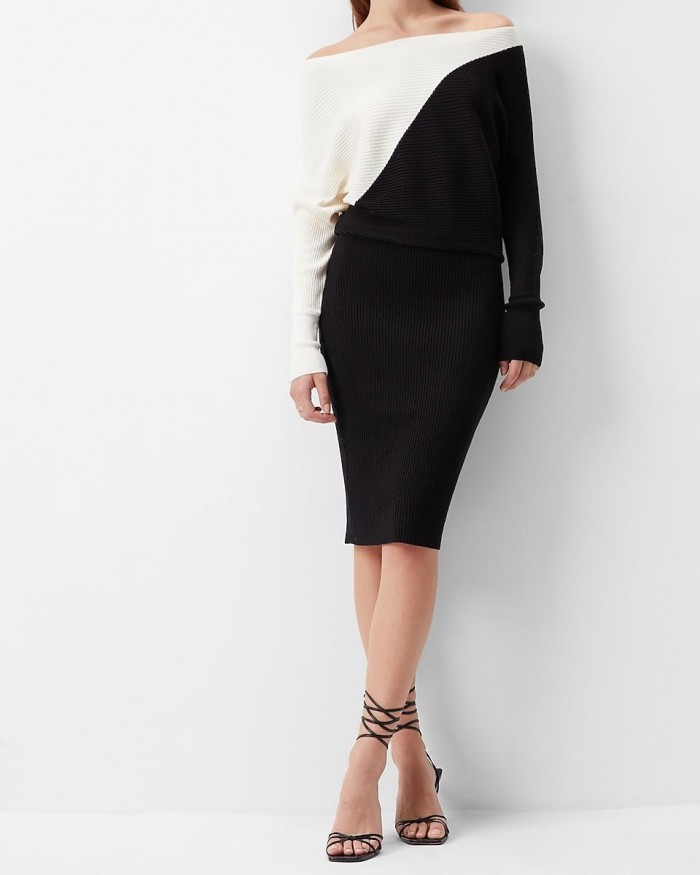 Do you want to make a vivid impression on your colleagues, but at the same time look like a true businesswoman? Fashion house Express has created an elegant, off-the-shoulder dress with asymmetrical colors especially for this occasion. Due to the long sleeves, it seems as closed as possible, but the border on the dress between white and black makes the person next to you get a glance over your figure.
Dress Of Mercer Everett
Buy: $78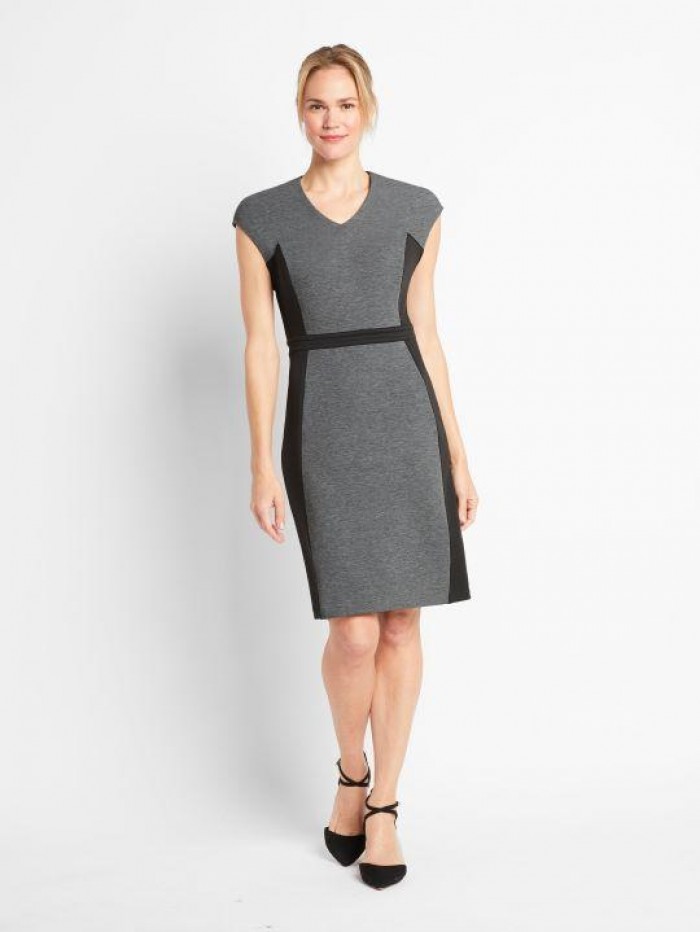 Another strict classic with an original stylistic solution. The Of Mercer Everett work dress has a neutral casual look due to its gray color and simple texture. But black inserts on the sides and a black belt create the image of a modern feminine businesswoman.
Using the Of Mercer dress as an example, we draw attention to the fact of how profitable Qwintry delivery is if compared to direct delivery from American stores to your country. For sending one set directly from the seller, you will have to pay several times more than when you send your purchases via Qwintry.
Ann Taylor Wrap Dress
Buy: $139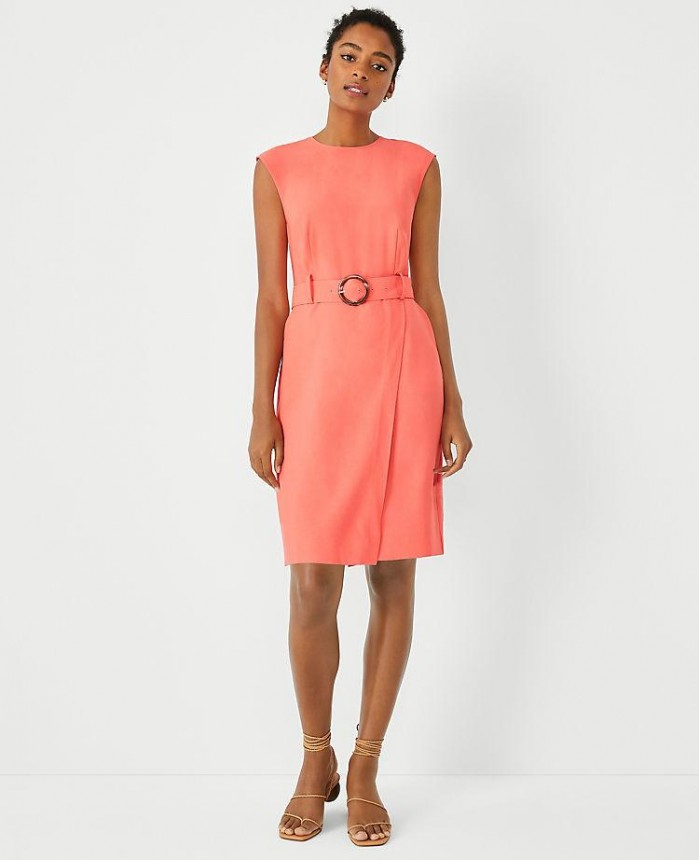 There should be bright elements in office life, and one of these elements can be your dress. For example, Ann Taylor's coral wrap dress. It is noteworthy that a wrap is only in the bottom of the dress, the top is made in one piece. Although the outfit is priced at $139, the promotion was 30% off at the time of writing, which meant the outfit was under $100.
J.Crew Factory Sheath Dress
Buy: $29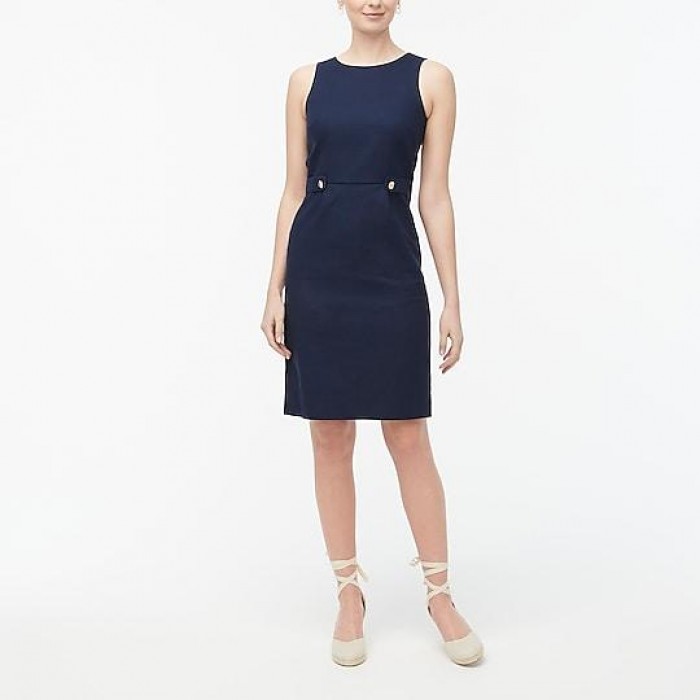 As we browsed through the J.Crew Factory catalog, we noticed a clearance sale dress in navy blue. Although there are only a few sizes left in the store, we couldn't pass up the 70% discount. Consider also the fact that this model is made from 100% cotton.
Modern Citizen Lenese Wrap Dress
Buy: $118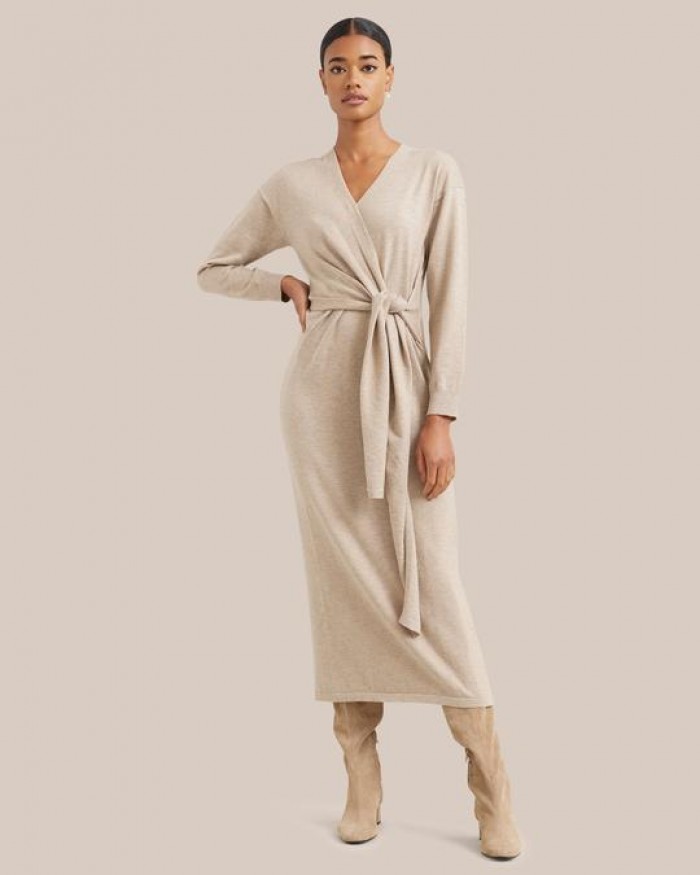 More and more elegant outfits are being created for the young adult generation, but many of them do not reach every country. But in the American catalog of Modern Citizen we saw a magnificent knitted dress with a wrap and a wide belt. Simple cuts and strict colors make this model an ideal office outfit. At the same time, the dress emphasizes the figure, which creates a feminine image.
Join Qwintry and buy unique work dresses in the USA.
Discounts + Coupons + Sales